The summer is almost over and I'm really looking forward to spending Labour Day at FanExpo.
My schedule will remain on the Appearances Page until after the convention.
---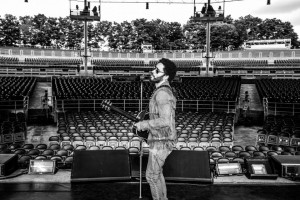 Lenny Kravitz sound check in Toronto. Photo by Mathiew Bitton

Last night, I saw Lenny Kravitz at the Molson Amphitheatre in Toronto. What an awesome, inspiring, musical extravaganza!
He only played 11 songs, but that's because "Always on the Run" and "Let Love Rule" were extended by several amazing solos – guitar, sax, drum, keyboard, and even a stroll through the crowd during "Let Love Rule"
Here's the playlist:
"Frankenstein" – the only song he played from his new album Strut and probably my favourite from that album. I've only owned Strut for a few weeks, and I'm still processing the awesome goodness contained within.
"American Woman" – best cover EVER, and a nice nod to us Canadians. This cover of the hit Guess Who tune was originally released on the Austin Powers: The Spy Who Shagged Me soundtrack (a piece of trivia I didn't know until today) and was added to the re-issue of the album 5 in 1999.
"It Ain't Over 'Til It's Over" – from the album Mama Said
"Dancin' 'Til Dawn" – from my favourite Lenny Kravitz album It Is Time for a Love Revolution. If you don't own this album and you like Lenny Kravitz, go out and buy it. Right now. Seriously.
"Sister" – one of the 3 songs he played from the album Are You Gonna Go My Way
"Believe" – a crowd favourite from Are You Gonna Go My Way
"Always on the Run" – from Mama Said. This is song is such a classic Lenny Kravitz tune (in my opionion) and the solos were spectacular. I didn't record them all, but the ones I did catch with my phone were by guitarist Craig Ross, trumpet player Ludovic Louis, and drummer Cindy Blackman Santana
"I Belong To You" – a truly soulful rendition, another song from the album 5
"Let Love Rule" – Another of my personal favourites of his, from the album Let Love Rule. If my knee wasn't so messed up, I would've stood on my chair to watch him walk around the crowd for this one.
"Fly Away" – a great way to end the show (before the encore) the third song he played from 5
For the encore, the moment he strapped on the Gibson Flying V guitar I knew he was about to rock my socks off with "Are You Gonna Go My Way" and I was NOT disappointed! There's a great Gibson interview of Lenny Kravitz here
From the playlist, if you're looking to get to know Lenny Kravitz's musical style, I'd recommend purchasing the albums Are You Gonna Go My Way and 5. Of course you can also pick up Lenny Kravitz: Greatest Hits which includes 8 of the songs from last night's show.
The only song I was crushed he didn't play is "Stand By My Woman Now" from the album Mama Said. Probably my number one LK song.
Kudos to the fabulous backing vocal trio. I did a couple of hours of research and was only able to dig up the names of two of the three talented singers: Jessie Wagner and YahZarah.