I've always enjoyed learning how authors create the stories they publish, and I'm not alone. It's no surprise that the most popular question authors hear is, "Where do you get your ideas?"
To answer that question in my own way, I've added extra content here on the blog as a bonus for my readers.
Elements contains 21 short stories — 14 reprints and 7 new to the collection.
If you click on a story title, the link will take you to extra content!
Introduction "What Becomes a Legend Most" by Sandra Kasturi
Coolies
Originally appeared in On Spec, Volume 20, Number 4, #75
The Wind and the Sky
Originally appeared in Neo-Opsis Science Fiction Magazine, Issue 5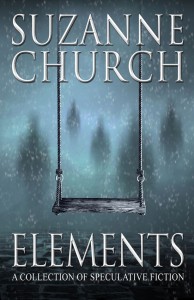 March of the Forgotten
New to the collection
Storm Child
Originally appeared in Cicada, Volume 9, Number 6
Courting Ice
New to the collection
Hot Furball on a Cold Morning
Originally appeared in Doorways Magazine, Issue 6
Jelly and the D-Machine
New to the collection
Everyone Needs a Couch
Originally appeared in Oceans of the Mind, Fall 2003
Waste Management
Originally appeared in Challenging Destiny, #21
Fuzzy Green Monster Number Two
Originally appeared in Neo-Opsis Science Fiction Magazine, Issue 12
Destiny Lives in the Tattoo's Needle
Originally appeared in Tesseracts Fourteen, EDGE Science Fiction and Fantasy Publishing
Synch Me, Kiss Me, Drop
Originally appeared in Clarkesworld, Issue 68, May 2012
Tattoo Ink
Originally appeared in The Shadow Box e-Anthology, Brimstone Press
Gray Love
Originally appeared in Chimeraworld #2
The Tear Closet
Originally appeared in Tesseracts Thirteen, EDGE Science Fiction and Fantasy Publishing
Hell's Deadline
Originally appeared in Book of Dead Things, Twilight Tales
Mod Me Down
New to the collection
The Needle's Eye
Originally appeared in Chilling Tales: Evil Did I Dwell, Lewd I Did Live, EDGE Science Fiction and Fantasy Publishing
The Flower Gathering
New to the collection
Muffy and the Belfry
New to the collection
Soul-Hungry
New to the collection