Below, dear reader, please find bonus content for Suzanne's book: ELEMENTS: A Collection of Speculative Fiction.
This series of posts provides stories-behind-the-stories for each tale in ELEMENTS.
Sitting in the 16th slot in the Table of Contents is: Hell's Deadline
---
Albert Einstein said:
Insanity is doing the same thing over and over again and expecting different results.
I definitely agree with Einstein on this one.
I've been caught in the spiral of obsessing over something over and over and not getting anywhere. We all have. So much so that the notion of endless repetition became the plot of the Bill Murray 1993 classic movie Groundhog Day.
I wanted to explore the frustration of endless repetition in a short story. Around the same time that I was noodling the plot,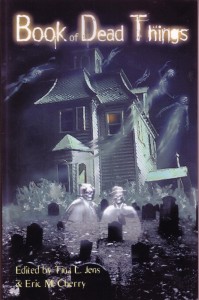 Book of Dead Things put out a call out for submissions.
Perfect timing!
Re-imagining Groundhog Day in HELL gave me the opportunity to write about Dead Things — dead people damned to hell — and the idea that eternal damnation involved reliving the moment of choice over and over again.
You know the choice I mean.
The choice that condemns your soul. That one decision that pushes your name from Santa's good list to his naughty list.
To quote the protagonist, Debbie:
Hell's all about the details.
Book of Dead Things launched at World Horror Convention in 2007, the year that Toronto hosted the con. So I was lucky enough to participate in the launch, where I read a short excerpt of Hell's Deadline.
I stuck around after our launch and was fortunate to hear Ramsey Campbell followed by Joe R. Lansdale read their fiction. (Or maybe it was the other way around, I can't recall.)
Even though I'd read their fiction before, their readings turned me into fans that day.
Fun Fact
In Hell's Deadline Debbie walks along a wooded trail through…
…the pine stands. Towering poles grow straight toward the reddish sky, planted in endless rows.
Fact: Close to where I live, there's a section of The Walter Bean Grand River Trail. I've spent countless hours biking, running, and walking along the trail.
One stretch winds past pine stands. And the trees really do grow in perfect rows.
Once the snow melts, I'll bike the trail and take a photo to add here.
---

ELEMENTS: A Collection of Speculative Fiction is available in Canada and the USA from EDGE Science Fiction and Fantasy Publishing.