Below, dear reader, please find bonus content for Suzanne's book: ELEMENTS: A Collection of Speculative Fiction.
This series of posts provides stories-behind-the-stories for each tale in ELEMENTS.
Sitting in the 14th slot in the Table of Contents is: Gray Love
---
From 2000 to 2006, I was part-owner of a cottage on Lake Muskoka, about two hours north of Toronto.
Our cottage (which was actually more of a house) was situated on the same bay–Muskoka Bay–as the empty former residential facility for people with developmental challenges. This institution was run by the Ontario government from 1963 to 1994. The grounds were first developed in the 1890s as a tuberculosis treatment sanitorium.
The original sanitorium grounds were so extensive that they used to have a second lodge to accommodate visiting friends and family. The lodge land was purchased and developed by our neighbours, who built their home on the former lodge site.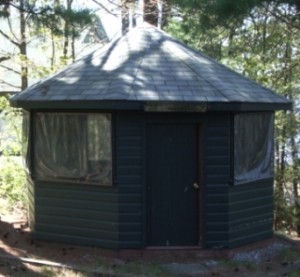 The original gazebo for the lodge was on our property. Here's a photo of the gazebo in the early 2000s.
I used to run along the county road that connects the sanitorium to the town of Gravenhurst, and I set Gray Love on that road. On one brutally hot and humid day, I saw a woman during my run. She looked totally gray and washed out. She didn't speak or interact with me, she simply stayed across the road from me and smiled.
Maybe I was suffering from a mild case of heatstroke, but that woman looked really wrong to me. By the time I was back at the cottage, I'd convinced myself that I'd seen a ghost from the facility. And even though the Gray Lady in Gray Love isn't a ghost, her creation was a direct result of my run that day.
Fun Fact
I read Gray Love for my first public reading. I remember feeling a combination of thrilled and terrified.
The reading took place near the end of my Clarion South 2005 trip to Brisbane, Australia. As a result, the majority of the audience members were my classmates, and I seem to recall that we were all pretty worn out by then.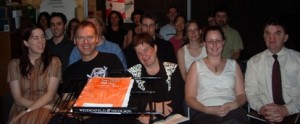 I was so keen to record the experience that I took this photo of my first audience!
Our week six tutor, Scott Westerfeld and his wife Justine Larbalestier each read their fiction at the same event. They're both in the front row in the audience photo, along with classmate Ellen Klages and conveners Kate Eltham and Robert Hoge. Look for Robert's book Ugly: My Memoir. I found it fascinating and inspiring.
---

ELEMENTS: A Collection of Speculative Fiction is available in Canada the USA from EDGE Science Fiction and Fantasy Publishing.