Below, dear reader, please find bonus content for Suzanne's book: ELEMENTS: A Collection of Speculative Fiction.
This series of posts provides stories-behind-the-stories for each tale in ELEMENTS.
Sitting in the 3rd slot in the Table of Contents is: "March of the Forgotten"
---
Here's the thing:
I spend at least half (if not more) of my writing time at Starbucks, because
(a) they allow me to linger as long as I like
(b) they have electrical outlets so I can plug in my laptop.
To do my part for the environment, I use travel mugs. (Why not save the ten cents?) One of my favourite mugs looks like this: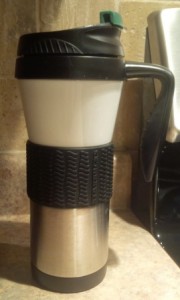 So one day, while I was sitting in Starbucks trying to decide what to write about, I made up a story about my mug coming to life. Not a full-on Brave Little Toaster type of life, more like partial consciousness and mobility. Enough intelligence to be self-aware, and enough mobility to march in a circle as a form of entertainment.
In March of the Forgotten lost objects march around the food court at the mall, in the hopes that their owners will notice and reclaim them. A high-tech lost-and-found.
Fun Fact
In the summer of 2004 I attended a short fiction writers' workshop at the Gunn Center for the Study of Science Fiction in Lawrence, Kansas.
A bunch of the students used to make coffee runs to Starbucks, a place I'd previously NEVER bothered with because I thought they only sold coffee and I don't drink coffee.
I'm sure, right now, you're asking, What??
I know, I'm crazy, but I do love tea. (It's probably a Canadian thing.)
So I'm in Starbucks and I discover that they do sell other drinks like tea and frappuccinos. Oh, blessed is the strawberry frappuccino especially with whipped cream topping.
My fellow students hooked me on Starbucks for life! And not only that, one of my pals had an awesome Starbucks mug, which miraculously didn't leak and kept my beverage warm for hours.
I bought the same mug. That mug was Sebbee's predecessor!
---

ELEMENTS: A Collection of Speculative Fiction is available in Canada and the USA from EDGE Science Fiction and Fantasy Publishing.