Below, dear reader, please find bonus content for Suzanne's book: ELEMENTS: A Collection of Speculative Fiction.
This series of posts provides stories-behind-the-stories for each tale in ELEMENTS.
Sitting in the 15th slot in the Table of Contents is: The Tear Closet
---
Of all of the stories in ELEMENTS, I would have to say that The Tear Closet speaks closest to my heart's truth. It is also one of the stories that helped me to truly break out as a writer.
This story marked my first appearance in the Tesseracts anthologies, an annual series of Canadian speculative fiction published by EDGE Science Fiction and Fantasy Publishing. And two writers that I truly respect — Nancy Kilpatrick and David Morrell — edited Tesseracts Thirteen. I'm grateful for their support for this story, as well as their ongoing kindnesses. Both Nancy and David read an Advance Reader Copy (ARC) of ELEMENTS and provided generous quotes for the book.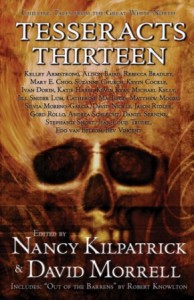 After I submitted to T13 and was waiting to hear back from the editors, my friend and fellow writer Louise Herring-Jones took David Morrell's writing workshop, which was offered right before World Fantasy Convention (WFC) began in Calgary, Alberta in 2008.
Before I arrived at the con, Louise emailed me to say that David Morrell liked my story, but didn't think the ending worked in its current state.
Once I arrived at WFC, I approached David Morrell and asked about the story. Over lunch we discussed Tear Closet and brainstormed possible endings.
I cannot thank David Morrell enough for (a) generously sharing his time to brainstorm the ending (b) giving the story a second chance and (c) being so supportive of my career since then.
Thanks also to Louise Herring-Jones for chatting me up with her instructor. She's always been (and continues to be) an ardent supporter of my work!
Fun Fact
In the story, Mabel walks over a long bridge.

Fact: the bridge in the story is the real-life Leaside Bridge in Toronto's East York. The bridge has six lanes of traffic and passes over the Don River, the Don Valley, and the Don Valley Parkway, and this photo doesn't really do it justice.
When I was a kid, we used to have to make the ten+ minute walk over this bridge to get to the shopping mall nearest to where we lived. We would often stop partway along and look down…way, way down…at the river and valley and cars below. And let me tell you, it's a looong way down.
I'm also reasonably certain that the Leaside Bridge is the main reason why my mother and I are both afraid of heights.
As a kid, during the whole trip across I'd imagine all of the ways that the bridge could fail: earthquake, tidal wave, explosives, car crashes — growing up during an era when disaster movies about earthquakes and tidal waves were popular is probably partly to blame for this doom-agination.
I used to count to sixty in my head, trying to guess how many more minutes before I'd safely make it to land on the other side. And with my heart pumping in terror, I had to be careful not to trip and end up getting run over by a car racing along the bridge (which in retrospect was much more likely than the bridge collapsing from an earthquake).
---

ELEMENTS: A Collection of Speculative Fiction is available in Canada and the USA from EDGE Science Fiction and Fantasy Publishing.