Below, dear reader, please find bonus content for Suzanne's book: ELEMENTS: A Collection of Speculative Fiction.
This series of posts provides stories-behind-the-stories for each tale in ELEMENTS.
Sitting in the 6th slot in the Table of Contents is: "Hot Furball on a Cold Morning"
---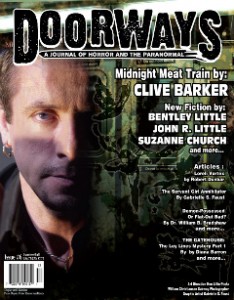 Years ago, I was scoping out Ralan.com in search of markets for my fiction when I stumbled across a call for submissions to the anthology:
Requiem for the Radioactive Monkeys.
The market didn't pay much, but the maximum length was 500 words. I figured I could write a story in an hour about a radioactive monkey.
Bam! The first version of Hot Furball on a Cold Morning flew into existence in record time.
Unfortunately, the editor, John Weagly, didn't pick up my story.
The big problem with any themed anthology is that after the stories are purchased and the rejections go out, suddenly a glut of stories with similar themes run the magazine and anthology circuits. I couldn't possible sell my radioactive monkey story right away! I'd have to sit on it for a while.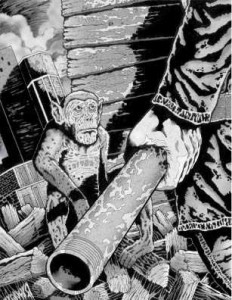 A couple of years later, I took a workshop run by the incomparable Mort Castle at World Horror Convention in Toronto.
Wind time ahead some more, and Mort Castle assisted in founding a new horror magazine called Doorways.
I reworked the story, filling in some details I didn't have room for with the original 500 word cap, and sold Hot Furball on a Cold Morning to Doorways.
Fun Fact
One of the other students in attendance at the Mort Castle workshop, Ken Lillie-Paetz illustrated my story. Didn't he draw a fantastic sad little monkey?
---

ELEMENTS: A Collection of Speculative Fiction is available in Canada and the USA from EDGE Science Fiction and Fantasy Publishing.