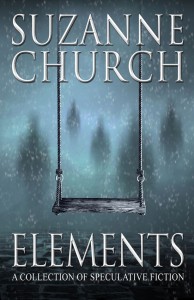 Elements is now available at Chapters online
Suzanne Church is a bright new star on the speculative-fiction horizon. I'm very excited to see this mesmerizing collection, which shows the fabulous range of Suzanne's talent and includes 'The Tear Closet,' one of my favorite stories in recent years.
—David Morrell, New York Times bestselling author of Murder as a Fine Art
Alien world after different setting, and in all of them, you are right there, up close and personal. Feeling, understanding . . .

This is not just another collection of stories! Yes, there's an Aurora award-winner here, but every last tale in this book is a powerful glimpse of a reality very different from our own. Some of these glimpses are dark, some wry—but all of them are rides both unforgettable and worth taking.

You'll read some of them many times. I guarantee it.

These stories grab hold tight, and hang on for dear life. And beyond.
—Ed Greenwood, New York Times bestselling creator of The Forgotten Realms®