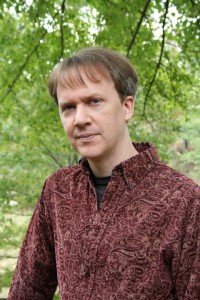 Howard Jones's debut historical fantasy novel, The Desert of Souls (Thomas Dunne Books 2011), was widely acclaimed by influential publications like Library Journal, Kirkus, and Publisher's Weekly. Its sequel, The Bones of the Old Ones, made the Barnes and Noble Best Fantasy Release of 2013 and received a starred review from Publisher's Weekly. He is the author of two Pathfinder novels, Plague of Shadows and Stalking the Beast (with two more on the way), and an e-collection of short stories featuring the heroes from his historical fantasy novels, The Waters of Eternity.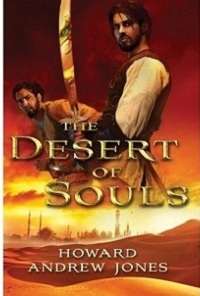 Howard assembled and edited 8 collections of historical fiction writer Harold Lamb's work for the University of Nebraska Press. He served as Managing Editor of Black Gate magazine from 2004 until 2013, and still blogs regularly at the magazine web site.
When not helping run his small family farm or spending time with his wife and children, he can be found hunched over his laptop or notebook, mumbling about flashing swords and doom-haunted towers. He's worked variously as a TV cameraman, a book editor, a recycling consultant, and most recently, as a writing instructor at a mid-western college.
Follow him on Twitter @HowardAndrewJon
---
Suzanne Church: You've written many insightful and personal posts on your blog. One of my favourites is your post on transitioning to a writing frame of mind. Do you use your Invocation of the Muses prayer every time you sit down to write?
Howard Andrew Jones: I'm glad you like it. It continues to be one of the most popular articles on my web site, and unlike most of my older posts still attracts new comments.
Honestly, I don't use the prayer every day. But then I guess I don't use any particular tactic every time I write. I pull out the prayer if I'm having trouble focusing. I always write a copy of the prayer in the first page when I start a new writing notebook, and I always carry my writing notebook (it's a paperblanks mini so it's easy to slip in a back pocket).
SC: If your characters were real people, which one would you choose to interview first on your blog. Why?
HAJ: Probably Asim el Abbas, loyal warrior companion and (later in life) chronicler of the adventures he shares with Dabir ibn Khalil. He's a biased narrator, and I have a blast writing from his perspective because he doesn't always see things as they really are. I try to provide clues to readers about what's really happening, but if you take everything he says at face value you're going to miss out.
Readers who notice the disparity between what he says and what people are actually doing are generally amused. Those who don't seem to get kind of huffy and are sometimes the source of my oddest reviews.
SC: Like many writers, you blog often about the craft. Which three of your posts would you consider essential reading for the newbies out there who are desperately hungry for candid advice on honing their skills?
HAJ: I like to share the hard lessons I've learned. Here's three, although as every writers has slightly different challenges, some folks might find other posts more useful than these. (I have a Writing category on my site so that it's easy to browse through technique articles.)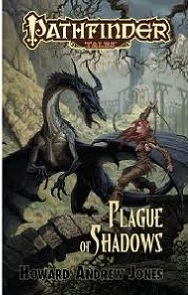 First up is a post on how easy it is to excuse yourself from writing, or do something other than write… and advice on how to combat that tendency.
Self-Sabotage is Easier than Writing
Second is how to get involved in the writing community, which is a must.
The Business of Writing – Joining the Community
Third is an article on outlining, which I think even those who prefer to write "seat-of-the-pants" might find useful. I use a sort of liquid outlining technique. By that I mean it's flexible, not that I imbibe while writing.
SC: Describe two aspects about running a small family farm that've influenced your prose.
HAJ: I spend more time than I ever expected taking care of horses. I don't actually ride them that often, but I'm around them all the time and I'm around people who ride them, not to mention the equipment required for riding them. It's given me an appreciation for what's required of folks for whom horses are a crucial part of daily life, and it's given me a sense of how horses act and how varied their personalities can be.
I guess the second thing is just the never-ending physical labor. For instance there's one of our horses who just has to reach the grass on the other side of the fence, which means he leans against the top fence rails… which means that eventually he breaks one. Inevitably I have to replace four or five fence rails every year. These are the sorts of things people living in agrarian societies have to spend their days doing, and this and other repairs and duties have given me a healthy respect for the activities as well as an understanding of the mindset and skillset required for them.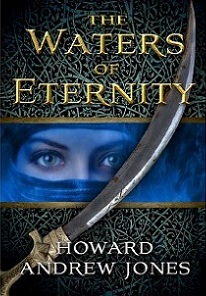 SC: What are you working on now?
HAJ: As usual, too many things at once. I have the first book of a new fantasy series with editorial at St. Martin's/Thomas Dunne Books and will be addressing those suggestions any day. I'm waiting for the same thing to happen with my most recent Pathfinder novel. But because I don't have editorial comments back on either, I'm working away on another Pathfinder novel AND stealing time here and there for work on a secret comic script. And in the back of my head I'm always mulling over the second book in my new fantasy series…
SC: Will there be any more Dabir and Asim books?
HAJ: The short answer is yes, I hope that there will be, but it will likely be through a Kickstarter or my own e-publishing efforts. I am very sad to say that despite some excellent reviews they didn't sell very well. Readers just didn't seem to hear about the books, despite all the coverage. Or maybe they just weren't interested in the time period, or prefer much longer books, or wanted to read about fantasy worlds rather than historical settings with fantasy overlay… or maybe they just didn't think a white 21st century guy should be writing about 8th century brown guys. I wish to God I knew the real reason. I spent many sleepless nights trying to figure it out.
In any case, I love those characters. So when I'm not slammed I draft short stories about them, and I hope to write at least one more novel (although I had many more planned) so I can at least give Dabir a "happy ending."
SC: For the following flash questions, try to answer with the first idea that pops into your head.
Imagine a prison of eternal misery. Is it hot or cold?
HAJ: Hot.
SC: If you were only allowed to read ONE book more than once in your lifetime, what book would you choose?
HAJ: Toughest question on here, as no book springs to mind lightning fast. Easier to name books I wouldn't re-read… Hang on. I'm going to go look at my shelves… Okay, probably the Leigh Brackett fantasy masterworks omnibus Sea-Kings of Mars.
SC: Scimitar or longsword?
HAJ: Scimitar
SC: Stickers on your laptop or pure out-of-the-box plain?
HAJ: Plain
SC: Alone at a cafe do you covertly people-watch, check Twitter and Facebook on your phone, or read a book?
HAJ: People watching is always interesting, but I don't do it for long. My phone's so old I can't check Twitter or Facebook. I MIGHT be reading a book, but odds are good I have one of my writing notebooks out and am jotting something down.
SC: Music while writing, or total silence? And if you chose music, name three inspirations.
HAJ: Silence.
SC: Thanks for participating in this blog tour!