Mark Barnes was born in Sydney, Australia, in September of 1966. A strong athlete, he was also drawn to the arts at a young age, penning his first short story as a seven-year-old. He worked in finance and advertising before establishing himself in IT services management. Currently he owns and operates a freelance organizational change consultancy.
In 2005, when Mark was selected to attend the Clarion South residential short story workshop, he began to write with the intention of making it more than a hobby. Since that time, Mark has published a number of short stories, worked as a freelance script editor, and has driven creative consultancy for a television series.
Mark is the author of the Echoes of Empire series, published by 47North. The series includes The Garden of Stones (May 2013), The Obsidian Heart (Oct 2013), and The Pillars of Sand (May 2014).
You can find out more at his website, his Facebook page, or follow @MarkTBarnes on Twitter.
---
Suzanne Church: The Echoes of Empire trilogy includes The Garden of Stones (May 2013), The Obsidian Heart (Oct 2013), and The Pillars of Sand (May 2014). For a first-time author, that's an incredibly tight schedule. How did you write three rich and detailed fantasy novels so close together?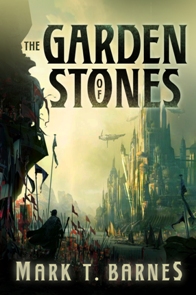 Mark T. Barnes: Thanks Suzanne. I run my own business and was in a position to take some time away from work to write The Garden of Stones. The world was created first, along with all the histories, cultures, and social mores. That determined the story I could tell, which in turn informed the characters I thought best to tell it.
The Garden of Stones underwent some changes but was finished pending the publisher's editing process in 2012. The Echoes of Empire series was planned as a number of trilogies, so when we got the deal for the first three books, it was only two that needed to be written.
I ended up sacrificing a fair bit. My social life was virtually non-existent, and thankfully those closest to me were understanding. I'd returned to work, so was either working or writing for between 15 and 19 hours a day in order to deliver the 280K words of the next two books in about nine months. I don't recommend it.
SC: What fraction of your world-building is based on Earth's socio-political and environmental principles and how much is pure imagination?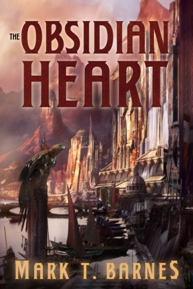 MTB: I researched systems of government as the grass roots for how the politics would work, then made the rest up to suit the world and its history. I wanted something unique, complex, and baroque, where the political system was as much there to administer the nation as it was there to protect the people from the worst of their own dark and savage past.
SC: If your characters were real people, which one would you choose to interview first on your blog. Why?
MTB: Definitely Indris. His backstory is rich, and filled with adventure, excitement, honour, sacrifice, sorrow, and joy. He's seen a lot of the world in his thirty something years, and is an educated man with a deep curiosity about the world.
SC: Describe two aspects about living in Sydney that've influenced your prose.
MTB: That's a difficult question, as my prose was changed to be more amenable to American readers. I remember the first draft had almost no instances of "but", "just", "that", or "and". I certainly would never have started sentences with those words. Most of the cultural influences of being an Australian were around landscapes and their descriptions, and some of the dialogue.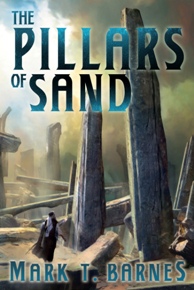 SC: What advice do you have for new writers searching for an agent?
MTB: I wrote the article Finding An Agent on my MarkTBarnes.com blog that provides a more detailed answer to that question. The single most important piece of advice would be to do your homework. An agent is your advocate and ally, as well as your voice to the publishers. They will spend a lot of time representing you, so it needs to be somebody you believe will be passionate about your project.
My suggestion is to see whether your writing style and subject matter is similar to that of other established authors, then find out who represents them. An agent who represents work similar in nature to your own has demonstrated their passion for the genre, their knowledge of it, as well as their knowledge of who publishes it.
SC: What are you working on now?
MTB: I'm working on two projects now. A near future urban fantasy that my agent has finished reading Act I of and seems to quite like, so we'll discuss what our next steps are. The other is another epic fantasy set in Īa. New characters, in a different part of the world. These books occur at roughly the same time as the first three Echoes of Empire books.
SC: You write rich and complex worlds, and the characters that go with them. What is it about world building that you enjoy?
MTB: Speculative fiction gives us great freedom to explore the boundaries of worlds. I enjoy the challenge of a blank canvas and filling it with history, exploration, societal rises and collapses, people of interest, etc. I think a strong world, which is consistent and works on clearly understood rules, provides a solid foundation
For the following flash questions, try to answer with the first idea that pops into your head.
SC: Imagine a prison of eternal misery. Is it hot or cold?
MTB: Hot! I live in a hot country and it gets pretty miserable when you don't want to go outside because you might spontaneously combust.
SC: If you were only allowed to read ONE book more than once in your lifetime, what book would you choose?
MTB: Dune, by Frank Herbert.
SC: Santoku or chef's knife?
MTB: Santoku. Or better yet a dragon tooth long-knife from my books.
SC: Stickers on your laptop or pure out-of-the-box plain?
MTB: Clean and simple! No stickers for me.
SC: At the beach do you soak up the sun's rays, rush into the water, or read in the shade?
MTB: You've seen me Suzanne. 🙂 With blue eyes, fair skin, and fair hair I tend to avoid the beaches in Australia. When I do go, I stick to the shade in the hottest part of the day. The water is for the early mornings, afternoon, evening, or night.
SC: Music while writing, or total silence? And if you chose music, name three inspirations.
MTB: Soundtracks definitely. Anything by Hans Zimmer, Bear McCreary, Cliff Martinez, or Trevor Morris. Some favorites are the original sound tracks for Black Sails, Sunshine, Man of Steel, and The Dark Knight.
SC: Thanks for participating in this blog tour!
MTB: Thanks for having me! I hope your readers enjoy it.