Below, dear reader, please find bonus content for Suzanne's book: ELEMENTS: A Collection of Speculative Fiction.
This series of posts provides stories-behind-the-stories for each tale in ELEMENTS.
Sitting in the 12th slot in the Table of Contents is: Synch Me, Kiss Me, Drop
---
The music-snorting dance-club hopping story, Synch Me, Kiss Me, Drop was probably born during my university work-terms in the 80s, when I used to frequent clubs like RPM and The Copa in Toronto.
Synch Me is still available to read online at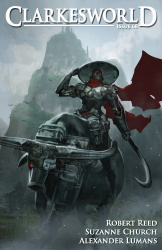 Clarkesworld, and is also available as a podcast on their site.
Like "Destiny Lives in the Tattoo's Needle", Synch Me was a finalist for an Aurora Award (in 2013).
I love music. We're talking a serious obsession here.
When I write, I listen to music. I'm much more productive with music playing. And on the days that I forget my headphones, I'm somewhat cranky by the end of a writing session at a cafe.
When I participate in NaNoWriMo I create a special playlist for that new novel. Whenever I go back to edit the novel, or submit queries to agents and/or editors, I usually play the tunes I selected for that novel's creation.
I always drive with tunes in the car. And whenever I'm a passenger in someone else's car, and I they won't offer me the controls to song-selection…well let's just say everyone is happier if Suzanne is allowed to play DJ.
I was destined to write a story inspired by music.
My two sons listen to two types of Electronic Dance Music (EDM): Dubstep and House music. They both attended The Veld music festival in 2012 and 2013.
And since EDM is tech-savvy, I was inspired to write a cyberpunk story where people can snort music directly into their minds like a drug.
The better clubs brought all the vibes together, so that every song you sampled was in perfect synch with the club mix on the speakers. When the drop hit, everyone jumped and screamed in coordinated rapture.
If not for my kids' enthusiasm for EDM (as well as their explanation of "the drop"), I never would've written Synch Me.
Fun Fact
At one point in Synch Me, Alex is trying to decide which song to purchase.
Three tables were set with products in stacks like poker chips. The first was a sea of purple, tiny lower-case "i's" stamped on every top-forty sample like a catalog from a so-called genius begging on a street corner for spare music. The second was a mish-mash of undergrounds like Skarface, Audexi, and Brachto.
In an earlier draft of the story, I'd written totally different names for the three underground artists. When my older son read it, he said, "Mom, the names for the bands kinda suck. How about I make up some names?"
He made up the artist names: Skarface, Audexi, and Brachto.
Thanks, Joseph!
---

ELEMENTS: A Collection of Speculative Fiction is available in Canada and the USA from EDGE Science Fiction and Fantasy Publishing.