Below, dear reader, please find bonus content for Suzanne's book: ELEMENTS: A Collection of Speculative Fiction.
This series of posts provides stories-behind-the-stories for each tale in ELEMENTS.
Sitting in the 4th slot in the Table of Contents is: "Storm Child"
---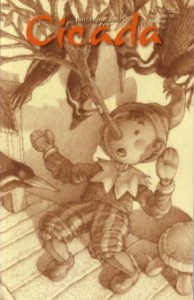 In the summer of 2000, AKA "2K", I attended my first writers' workshop, taught by Ann C. Crispin and held at DragonCon.
At the end of the workshop, we students formed a writers group, which we named the "DC2K" writers. Since then, we still critique, share market listings, and provide support for one another's work.
One of our group challenges was to write a short story based on a myth or folk story.
I decided to research myths outside of the ones I was already familiar with, and found The Hero with an African Face, Mythic Wisdom of Traditional Africa by Clyde W. Ford (Bantam, 2000) at the Kitchener Public Library.
One of the myths was a Rwandan folk tale, and I loved the way it flowed and the atmosphere of the setting.
But the challenge from DC2K was to re-tell the myth, so I decided to set the story in the United States, a few years after the emancipation of the slaves.
Storm Child was originally published in Cicada. The magazine is gorgeous. They included 7 illustrations by Walter Mendoza for the story. I must admit, the first time I saw them, they took my breath away!
Fun Fact
The main character in Storm Child is named Wanda.
I took some flack from my writers group about the name, mostly that they felt it didn't quite fit with the character.
Hear me, writers-to-be: I stuck with my gut on the name. Because I'd based the story on a Rwandan tale, and I thought using the name Wanda was my way of tipping my hat to the origins of the story.
---

ELEMENTS: A Collection of Speculative Fiction is available in Canada and the USA from EDGE Science Fiction and Fantasy Publishing.